Tuesday, February 28, 2006
Only we ourselves know everything about our lives - even the tiniest secret, the tiniest emotion, and the little midnight thoughts. So who's to judge but us?"
That's a quote from one of my closest friends. I wish I can agree whole-heartedly, but deep down, despite my feeble efforts I know I'm influenced by the winds of social expectation.

Back into the sea of confusion where the creatures of the deep lie
sunshine dissappears and storm clouds gather
surprised by the thunder and the lightning strike
alone in the woods not a soul in sight
such hostile environment where can one hide?

My thoughts can be abstract and random, don't ask me what I'm describing, I can't be bothered to be truthful. I'm just expressing the real and the surreal, the mental landscape and the physical world. If only I have a paintbrush and a canvass, perhaps then I can express these thoughts and drown myself in my meditating hours of silence. Just me, relaxing music and a brush...

Sometimes I feel vulnerable, scaling mountains and climbing slippery rocks, moments when I would look down and see where the future will lie if that foot of mine slips any further down. The rapid is high and the slopes dangerous. Team spirit keeps everyone going, a smile, a handhold, quick grasp of hand when one slips down. It all makes a difference. A girl turned to me with bewildered eyes, "I just realised how life isn't all that simple." I enjoy group unity, perhaps that sense of belonging? People, people intrigue me. Merely a few months and I come across so many types. Human interaction makes one learn about one self better, correct? Sometimes I come face to face with my own insecurities and fears, in some ways I've learnt to deal with them better. Yet there is still fear. You slip and fall hard, you hope next time you cross the same path, you will not do the same, you hope you've learnt from your past errors. Subconsciously I think I'm searching, pondering, and wondering who "the one" may be. Sometimes I get disappointed, so tired, weariness stops me wanting to bother.

These days I wake up from abstract dreams. One of lying in a four-post bed with the sky as my ceiling, surrounded by European cathedrals. Crowds of strangers passed by like business people in a peak hour mrt station, grey, unfeeling, anonymous. I dreamt I met a guy who claimed he was Jay Chow (fav chinese pop idol), but I didn't believe him because he didn't look like Jay. When he sang to me, I was sitting on his bike and his voice was so amazing it lifted our bike high off the ground as if carried by magic. I woke up shivering in the middle of the night sensing someone tapping my tent, but there was no one but the rustling of leaves in the wind, songs from insects and the nearby flowing stream...
xiao ying @ 3:59 PM.
Wednesday, February 22, 2006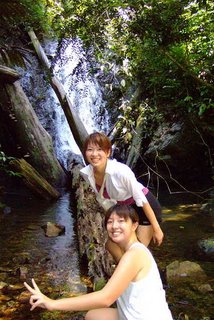 I decided that it was time to venture deep into the jungles of Malaysia...Search on the internet and 1 phone call later, it was confirmed! How refreshing it was kicking off those high heels, handbags and skirts for a change, and putting on my liberating shorts, backpack and runners-ready to catch the public transport into Malaysia with 14 new friends from the local university!
Sure we were exhausted and hungry by the end, but boy did we have fun!!!
To check out the photos, visit recent shots under my photo album
xiao ying @ 3:14 PM.
Saturday, February 11, 2006
I don't need some guy to wine and dine me all the time
I don't need someother guy to tell me I look fine
I won't hear a lie even if it's all you have to say
No more empty promises to keep me hanging on a line
Just as themusic plays on and on each and every day
Hey Hey
There is no other way
Simply smile a little smile for you
No matter what you do
Love yourself everyway
Feeling good that's your natural right
Love yourself every day
Close your eyes feel the love inside
You oughtta know by now baby
Loving life is
all you need to be a lady
On my way to feeling empty in a sea of people alone, melancholy was interupted by the upbeat lyrics of this song I heard on my mp3 player.
xiao ying @ 12:30 AM.
Friday, February 10, 2006
January came and went with the whiff of chinese new year firecrackers trailing behind, not to mention fun-filled memories, bloated tummies, sun-kissed (or burnt) skins, 400 photos, fatigue from late nights and sore throat from 20 hrs of karaoke.

Feburary marks the month of 'romance', with Valentine's day looming ahead, every shop is now screaming 'love' with roses teddies and hearts in red and pinks (you getting the idea now how the commercialised singapore works by taking advantage of every festival?) Even my fitness center is joining the spirit of things, now conducting classes with corny names such as 'latino lovers worker out', 'the cycle of love' or 'fight for love body combat'. Been out on several 'interesting' first dates so far, most turning out fairly ho hum or eyebrow raising (ie-disatrous, haha some juicy stories there but they're private for another time). I did meet this guy who seemed pretty decent. We click well and I actually enjoy his company. He's asked me to be his date for this year's valentine and I agreed.
Somedays you do wake up thinking the world is your oyster-with your independence, your youth and good health. Somedays, well, you wake up totally buggered from lack of sleep that you wish the world would just go away. Then you turn up to work with bags under your eyes and a sore throat irritated at every patient you see and staring at the clock for the shift to end. Lesson to be learnt? SLEEP MORE! Funny how I always curse myself for sleeping too late in the morning, and committing the same sin the night after...
Feburary hopeful also marks a month of making new friends, weekend trips to malaysia with university groups, friends visiting me from Australia, more photos, more exploration of south east asia, and hopefully more self discovery!! So far I'm learning lots, and discovering that there is so much more to learn.
xiao ying @ 2:42 PM.
Tuesday, February 07, 2006
To check out more photos of the parade, click my recent shot under photoalbum
xiao ying @ 1:53 AM.
To view more photos: click
http://au.pg.photos.yahoo.com/ph/jennyyingwu/album?.dir=8ad4&.src=ph&store=&prodid=&.done=http%3a//au.pg.photos.yahoo.com/ph/jennyyingwu/my_photos
xiao ying @ 1:34 AM.
Thursday, February 02, 2006
http://au.pg.photos.yahoo.com/ph/jennyyingwu/album?.dir=/3355
xiao ying @ 1:41 AM.
hit Counter
==MY PROFILE==
Name: Xiao Ying
Year of birth: 1982
Country: Australia
Star Sign: Scorpio
Goal: To capture moments in life, and share it with those who matter





|MY PHOTO ALBUM|
|| Thailand ||
|| Recent shots ||

|ARCHIVE|
July 2005
August 2005
September 2005
October 2005
November 2005
December 2005
January 2006
February 2006
March 2006
April 2006
May 2006
June 2006
July 2006
August 2006
September 2006
October 2006
January 2007
February 2007
March 2007
April 2007
May 2007
June 2007
September 2007
May 2008
December 2008
January 2009
February 2009
May 2009
June 2009
September 2009
October 2009
November 2009
January 2010
February 2010
March 2010
May 2010
July 2010
August 2010
October 2010
March 2011
|FRIENDS|
|| Joyce ||


|| Jacob ||


|| Allee ||


|| Kla ||


|| Grace ||


|| Tian ||


|| Hiro ||


|| Theo ||


|| Cloris ||


|| Harvard) ||


|| CJ ||


|| Kawei ||


|| JJ ||


|| Steven ||


|| Chloe ||


|| Ling ||


|| blog ||
==FAVOURITE QUOTES:==

"NOW" is a gift, that's why they call it "THE PRESENT"

Travel life has the essence of a dream.
It is something outside the normal,
yet you are in it.
It is peopled with characters you have never seen before
and in all probability will never see again.
It brings occasional homesickness, and loneliness,
and pangs of longings...
But you are like the vikings who have gone into a world of adventure,
and home is not home until you return.
But home is where the heart is.
So where is home?
Dance like no one is watching
Love like you've never been hurt
Sing like no one's listening
Live like it's heaven on earth
Chocolate flows in deep dark, sweet waves, a river to ignite the mind and alert the senses...
Unexpected events in our daily lives are like different flavors that lie waiting beneath each chocolate cover. Just like Forrest Gump explained:
"Life is like a box of chocolate, coz you never know what you're gonna get"